About Us
---
Kamalnayan Bajaj Hospital is one of the largest private hospitals in the state of Maharashtra and also a pioneering hospital in the field of Joint Replacement surgery in India. It is an extremely reputed multi-specialty hospital, renowned for its excellent medical expertise, nursing care and diagnostic services. Though it is a corporate hospital it is more of CSR (corporate social responsibilities and many of the surgeries are free). It is in tune with the latest technology that promotes quality health care and well-being of the patient. There are 5 operating theatres equipped with laminar airflow and the most sophisticated equipment for replacement surgery. It is a 135 bed, 150,000 sq. ft. hospital, offering complete healthcare under one roof. It has a very good team of renowned and experienced doctors such as Dr. Santpure Shivkumar who works as a visiting doctor and a consultant at this hospital.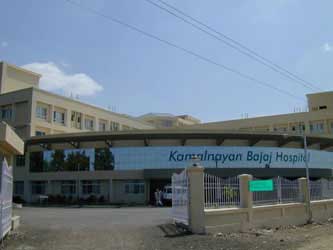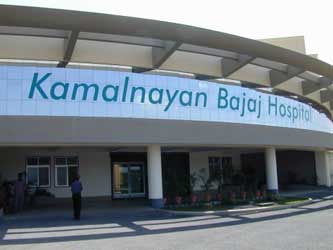 Thanks to Dr. Santpure Shivkumar and his team, who carry out a wide range of advanced orthopaedic treatments such as hip and knee replacements, knock knee correction, congenital hand deformities, leg length discrepancies, joint replacement surgery, bowlegs correction, treatment for clubfoot, hip arthroscopy, knee arthroplasty, wrist replacement, ankle and foot surgery, knee cartilage replacement surgeries to name a few.

Post operative care is given utmost importance by the doctors and it involves the use of most sophisticated methods to control pain and hasten recovery, such as epidural pump, sequential compression device and CPM. All these ensure excellent range of motion of the joint and quick return to a normal active, pain free life. People from different parts of the country and abroad come to Aurangabad to seek advice and treatment from some of the leading doctors and surgeons like Dr. Santpure Shivkumar and his team.
Location and Facilities Provided
Continuing to fulfill the critical need of providing the best medical care to the people of Marathwada, the Marathwada Medical and Research Institute now presents all new comprehensive healthcare facilities under one roof at the Kamalnayan Bajaj Hospital. Conveniently located on the Beed Bypass road, just 2 kms away from the railway station and bus stand; the prime objective of the hospital is to offer complete healthcare facilities to the local people, so that not a single person from the Marathwada region needs to go to Pune or Mumbai for expert medical care and treatment. Some of the facilities provided at the hospital include:
OUT PATIENT DEPARTMENT (OPD)
Kamalnayan Bajaj Hospital offers one of the finest Out Patient Departments with various specialist consultants available for advice on full time basis. Supported by all the diagnostics and laboratory facilities, this OPD is provides complete solutions under single roof so that you need not travel from one hospital to other for multiple consultations or diagnostics.
IN PATIENT DEPARTMENT (IPD)
Kamalnayan Bajaj offers In Patient services to take care of all types of patients wherein one be can accommodated in general ward (6 Patients per room) or in Super Deluxe Room (650 Sq. Ft. spacious room with all amenities).
OPERATION THEATRES
Operation Theater Suite is the heart of any hospital and at Bajaj; we have developed one of the best Operation Theatre facilities in this region. We have totally 6 spacious and well designed operation theatres in the hospital. The five specialty theatres are located in the main Suite on the first floor and one minor theatre is located near casualty on the ground floor.
The five specialty theatres are dedicated theatres for each specialty as the needs of each specialty are distinctly unique. These are
Cardiac Surgery
Ophthalmic
Orthopedic
Gynecology
General Surgery
All these theatres are provided with some unique features to make them scientifically and technically advanced Surgical Procedure rooms.
CASUALTY
Kamalnayan Bajaj Hospital has one of the best Trauma Management centre in Marathwada. For any type of emergencies, one can be admitted to the hospital through its casualty department. The department features are as follows:
Complete 6 bed setup.
Operation Theatre for Minor Procedures.
Uninterrupted Centralized Gas supply.
Equipped with Defibrillator, ECG and other Trauma Management setup.
Attended by Well Qualified Doctors and Nurses, Round The Clock.
Supported by State-Of-The-Art.
Supported by Radiology Department with X-Ray, CT and Ultrasound, located just next to the Casualty.
Separate Waiting Lounge for Relatives of patients.
CRITICAL CARE AMBULANCE
One of its kind in Aurangabad, this Critical Care Ambulance is a boon for patients undergoing trauma who need immediate medical attention. Supported by a 24 Hour Helpline, this Ambulance can be hired by any patients in and around Aurangabad. The salient features are as follows: Equipped with Oxygen, Defibrillator, ECG, Pulse Oxymeter, Glucometer, Accompanied by Qualified Doctor and Trained Nursing and Para-Medical staff.
In emergency, call (0240) 2377999 and ask for Critical care Ambulance. During daytime, the ambulance is available at hospital premises and between 9.00 pm and 7.00 am; it is parked at Kranti Chauk for providing faster response to emergencies in the city.
24 HOUR PHARMACY
There is an in-house 24 hours pharmacy managed by the hospital which is located at the main entrance of the hospital. This pharmacy is managed by Expert Pharmacy dispensers and is well-stocked so as to provide uninterrupted availability of prescribed medicines.
CAFETERIA
The hospital has in-house cafeteria, which is strictly vegetarian and provides breakfast, snacks and meals along with hot and cold beverages for patients as well as their relatives and visitors. In case, the patients want all the meals to be ordered from this cafeteria, the same would be served in the room by the staff of cafeteria. There is also a small coffee shop located near the main entrance which serves hot and cold Beverages with Dry snacks like biscuits between 9.00 am to 8.00 pm.