Congenital Deformities
---
Congenital deformities include a broad range of physical abnormalities existing from birth, although some, such as scoliosis, may not manifest until later in life. The most common are craniofacial deformities, such as cleft lip or palate, and skeletal deformities, such as clubfoot or spina bifida. The impacts of congenital deformities can be primary, such as delays in the development of motor and language skills, or secondary, such as social ostracism and low self-esteem. Surgical procedures may help with many of the physical abnormalities, although these can involve multiple surgeries and may cause more stress for the child and family members. Congenital abnormalities are best thought of as chronic illnesses; multidisciplinary, as well as psychosocial, interventions at the individual, family, and community levels are usually recommended.
Different types of birth defects
There are two main types of birth defects: structural and functional/developmental. Structural birth defects are related to a problem with body parts. Some physical problems include cleft lip or cleft palate, heart defects, such as missing or misshaped valves, and abnormal limbs, such as a club foot, knock knees etc.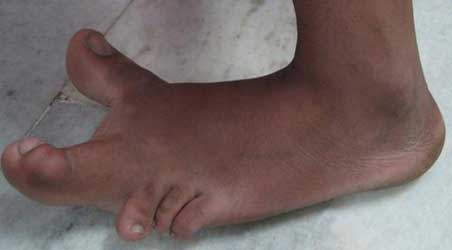 Functional birth defects are related to a problem with how a body part or body system works. These problems often lead to developmental disabilities and can include things such as:
Nervous system or brain problems - such as learning disabilities, mental retardation, behavioral disorders, speech or language difficulties, convulsions, and movement trouble. Some examples of birth defects that affect the nervous system include Autism, Down syndrome, Prader-Willi syndrome, and Fragile X syndrome.
Sensory problems - such as blindness, cataracts and other visual problems, and varying degrees of hearing loss including deafness
Metabolic disorders - involve a body process or chemical pathway or reaction, such as conditions that limit the body's ability to get rid of waste materials or harmful chemicals. Two common metabolic disorders are phenylketonuria (PKU) and hypothyroidism.
Degenerative disorders - are conditions that might not be obvious at birth, but cause one or more aspects of health to steadily get worse. For example, X-linked adrenoleukodystrophy (X-ALD), which was the focus of the movie Lorenzo's Oil, Rett syndrome, muscular dystrophy, and lysosomal disorders are examples of degenerative disorders.
What are congenital limb defects?
Congenital limb defects occur when a portion or the entire upper or lower limb fails to form normally when the baby is developing in the uterus. Congenital limb deformities include congenital hand deformities (upper limb) and congenital deformities of the foot (lower limb).
What causes congenital limb defects?
The cause of congenital limb defects is unknown. However, risk factors that may increase the likelihood of a congenital limb defect include the following:
Conditions affecting the baby in the uterus during development
Exposures by the mother to chemicals or viruses while pregnant
Specific medications
Treatment for congenital limb defects
Specific treatment for congenital limb defects will be determined by your child's physician based on:
Your child's age, overall health, and medical history.
The extent of the condition.
The type of condition.
Your child's tolerance for specific medications, procedures, or therapies.
Expectations for the course of the condition.
Your opinion or preference.
Treatment options for correcting congenital deformities of the hand and foot may include:
Prosthetics (artificial limbs)
Orthotics (splints or braces)
Surgery
Rehabilitation (physical or occupational therapy)